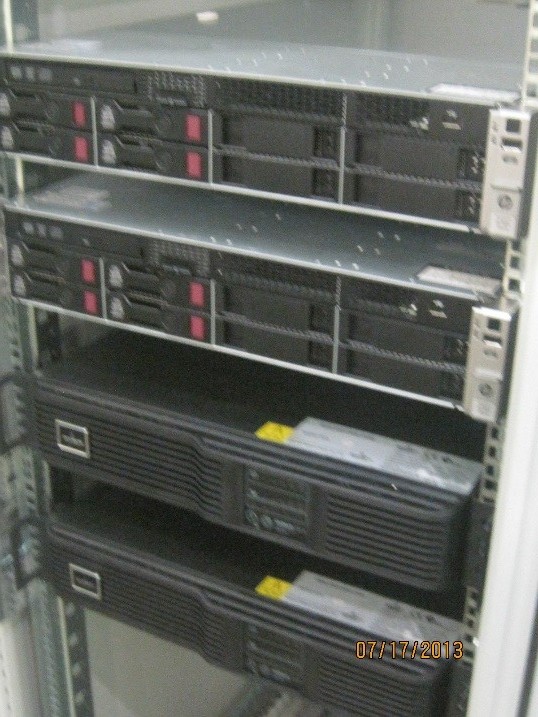 Operation Workstations
In general, operator's workstations and control panels are designed to control a single device or a set of associated devices and located close to them.
Local control panel is made in a plastic or metal housing with protection degree IP54 and designed to be installed inside or outside.
On the panel there is a mode switch "Local/Remote", control keys and, if required, check indicators and mechanism status indicators.
Component parts of local control panels are products of Lovato or Schneider Electric.
Operator's workstation consists of an LCD control panel with touch screen, built into a separate housing or cabinet. The control panel allows displaying workflow mnemonics and additional video data, which is controlled from the panel.
Operator's workstation is supplied with the applied software.
The APCS high level equipment is mounted on server racks, such as: servers, CPUs of an operator's automated workstation, active network equipment, no-break power supplies.
Our company offers a wide range of assembled server racks in standard 19″ enclosures with IP20 degree of protection, option IP54 if required. A transparent door is available to be able to view and better control the equipment installed. Server rack enclosures as well as control cabinets are purchased from the world's leading manufacturers like ZPAS and Rittal.
The standard APCS high level architecture includes a server rack consisting of the following components:
Process server;
CPU of operator's automated workstation;
Network switch with a patch panel;
No-break power supply;
Server controls (monitor fixed mount, keyboard slide outtray with mouse or pull-out sliding shelf with built-in controls).
 We offer solutions to form a single space: a server rack is mounted near operator's console including side-mounted displays, keyboard slide out tray with mouse for the operator's automated workstation (AWS).
Licensed operating system and SCADA software are installed on the server and AWS ensuring that operators could interact with the automated process control system (APCS), keep archives and protocols, create accounting documents as well as remote access to APCS will be allowed.